It materialised out of almost nowhere. Thousands of years after disappearing from human sight and knowledge, an ancient 'henge' site has been discovered hidden within the archaeological landscape of Ireland's Brú na Bóinne.
To reveal this long-forgotten structure, it took a chance intersection between an aerial drone flight and a brutal hot streak that's been slowly roasting the UK for weeks.
The same environmental conditions have unveiled dozens of concealed architectural apparitions in recent weeks, but when eyes were laid on this prehistoric, epic circle invisibly cradled within the Boyne Valley, the sacred truly met the profane.
"What the f*** is that?" photographer and author Anthony Murphy yelled to another photographer friend nearby.
"I've been telling all the media here that I shouted, 'What the hell is that,' but it was actually a stronger expletive," he explained to NPR.
"When we saw this, we knew straight away, this had never been seen or recorded before."
Prompted by the recent archaeological discoveries borne out of the British heatwave, Murphy – who runs the website Mythical Ireland – decided to fly his drone southwards of the prehistoric monument Newgrange, never actually dreaming he'd encounter an unknown site of the same ilk. Until he did.
Co-discoverer and fellow drone photographer Ken Williams at first couldn't believe the pictures the drones were relaying, assuming the traced outline of buried prehistoric mounds was a strange artefact of drone interference, or perhaps crop circles stamped by pranksters.
"What we were looking at seemed too good to be true," he wrote on his blog.
"We moved in closer to look at it in detail, [and] we could see for certain that this was the colouration of standing crops that had not been interfered with. What we were looking at was beneath, within the soil, not in the crops themselves."
The circular pattern is approximately 150 metres (492 ft) in diameter, with an interior space stretching up to 120 metres (393 ft) in diameter.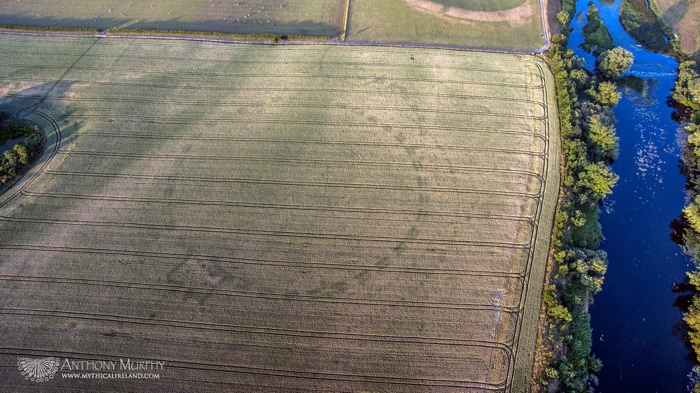 (Anthony Murphy/Mythical Ireland)
Archaeologists estimate the structure and surrounding features of interest to be somewhere around 5,000 years old, with the henge circle capable of holding a few thousand people during ancient ritual events – although the exact purpose of such get togethers is still debated.
However, since the site is on private property, it's unclear whether any future excavations will be conducted to allow archaeologists to investigate the structure in detail.
Nonetheless, these kinds of structures are so rare and so valuable to archaeologists and historians that even finding where such a mound lies is a significant scientific event.
"In all honesty, it's going to take some time to process this," Murphy explains on his blog.
"Archaeologists are calling it a once-in-a-lifetime find. The last time drought conditions like this might have allowed such features to be visible was in 1976."
Already, preliminary aerial surveys carried out in the wake of the discovery have detected additional sites of interest near the henge, which will now be mapped.
In addition to this aerial research, archaeologists in Ireland are also making important discoveries on the ground too, including a 5,500-year-old passage tomb uncovered at Dowth Hall, close to centre of the Brú na Bóinne, which is being called "the most significant megalithic find in Ireland in the last 50 years".
While there's still a lot we don't know about the people who dug this ancient resting place, lead archaeologist Clíodhna Ní Lionáin from University College Dublin says they were likely the descendants of Ireland's first farmers.
"In terms of designing these monuments, they were really good architects, engineers and also astronomers," Ní Lionáin told The Irish Times.
"And we can also see from what the art we have here they were amazing artists as well. Even though we don't know what this art means, everyone who comes here is struck by this art."
The proximity of all these monuments makes the Brú na Bóinne region an incredibly fertile landscape for archaeologists, who are eager to learn more about the new henge structure.
"We don't know what the henges are for but it's thought they were meeting places," archaeologist Steve Davis, from University College Dublin, who was part of the team excavating the passage tomb, explained to the BBC.
"The confusing thing is why there are so many in one area. Nowhere else in the world has so many in one spot."