In the Australian town of Jimboomba, 50 kilometres (30 miles) south of Brisbane, a tawny frogmouth had an unfortunate run-in with a barbed wire fence.
"If you can picture a 6 foot chain fence with barbed wire at the top – that's where it was stuck," senior wildlife carer and president of Reptile Rehabilitation Queensland Anette Bird told Australian Geographic.
"It must have flown into the fence at night."
(Brisbane Bird and Exotics Veterinary Services/Facebook)
Tawny frogmouths (Podargus strigoides) are an adorable species of nocturnal birds native to Australia. They've big-eyed and stocky, which is why they can commonly be mistaken for owls.
They can also be overlooked as just another part of a tree, thanks to their bark-like feathers and ability to pose unnervingly still.
A neighbour reported seeing the tawny stuck in the barbed wire, and Bird came to try and rescue it.
She cut it free, and was taken to the Brisbane Bird and Exotics Veterinary hospital, but it wasn't looking in a good way.
"When I saw him I thought game over," Bird told the Australian Broadcasting Corporation (ABC).
"Clearly he was stuck and I realised he was in big trouble, so I had to cut his main flight feathers to get him free, or it was going to end badly."
(Brisbane Bird and Exotics Veterinary Services/Facebook)
But the tawny frogmouth, which they called Kouro, did have luck on his side.
"Not even 2 minutes down the road I get a second call about a tawny frogmouth in the area," she explained to Australian Geographic.
"Normally I would say I've already got one I'm rescuing, but something nagged me and I thought 'I'll go get the other one. And that was the best decision I could have made."
This second tawny had severe head and wing injuries, as it had been hit by a car at about 100 kilometres (60 miles) per hour, and had to be put down.
Vet Hamish Baron who did the transplant procedure was able to use the second tawny as a donor for the wing transplant.
"Fortuitously, I've just got back from three-and-a-half months training doing falconry medicine in Dubai, and we did feather implants every day over there because the birds were breaking their wing feathers during training," Baron said to the ABC.
"This bird was the perfect candidate, because it came in with another bird that had passed away – a tawny frogmouth of the same size and sex – and so we were able to transplant the feathers without any dramas trying to find a donor bird."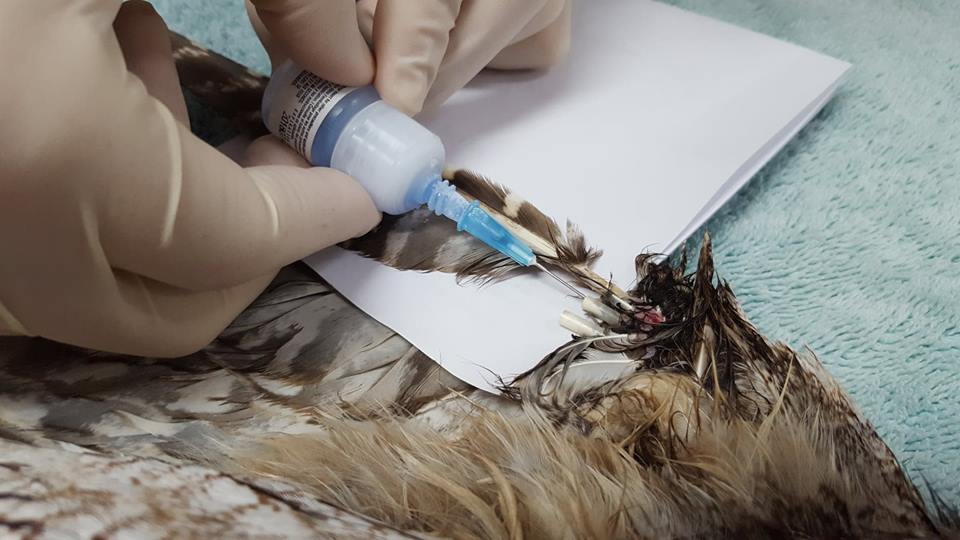 (Brisbane Bird and Exotics Veterinary Services/Facebook)
Koura underwent a procedure called imping, where the remaining flight feather shaft is cut short, and a small bamboo skewer is placed inside the shaft, which is then connected to the feather being replaced.
Once the bits are in place, everything can be glued to seal it together.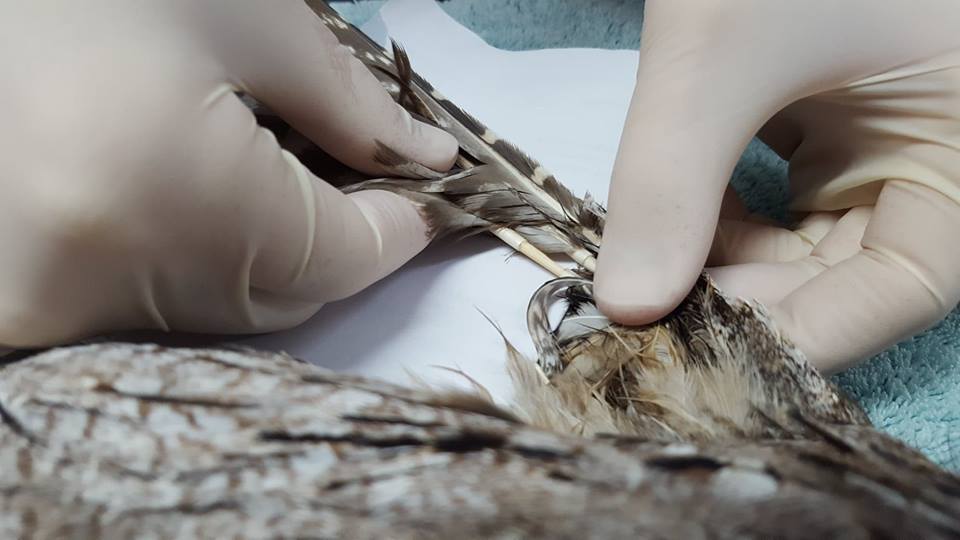 (Brisbane Bird and Exotics Veterinary Services/Facebook)
The procedure took around about 45 minutes, and six flight feathers were transplanted.
The operation went incredibly well, and after five more days, Kouro was released back into Jimboomba.
"It's a cool procedure," Baron told Australian Geographic. "It's the sort of case where you feel like you're making a difference."
Although Kouro would have probably survived even without those six feathers, the rehabilitation process is timely and stressful. He would have had to have been grounded for 6-12 months while the feathers grew back.
"The outcome was unbelievable as far as I'm concerned, it was miraculous really," Bird told the ABC.
"It was an unbelievable feeling when I saw him fly off – you can't even put words to it – it was just awesome."
You can see more pictures and information about Kouro and the procedure here.