Knowing which side of the road people drive on is important for anyone who's thinking about using a vehicle in a foreign country.
There are 163 countries and territories that drive on the right side of the road, while 76 of them drive on the left.
Many of the countries that drive on the left – making up about 30% of the world's population – are former British colonies, including ones in Southeast Asia, Southern Africa, and Oceania.
Here's a graphic showing which side of the road each country drives on, followed by a full list below: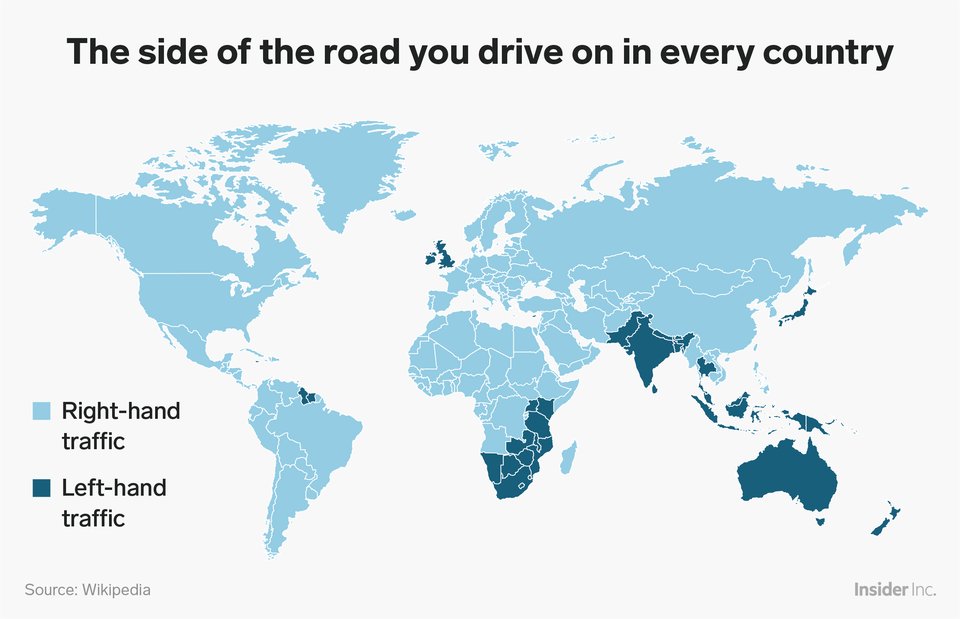 (Shayanne Gal/Business Insider)
Countries and territories that drive on the left
Anguilla Antigua Australia The Bahamas Bangladesh Barbados Bermuda Bhutan Botswana British Virgin Islands Brunei Cayman Islands Channel Islands Christmas Island Cocos Islands Cook Islands Cyprus Dominica Falkland Islands Fiji Grenada Guyana Hong Kong India Indonesia Ireland Isle of Man Jamaica Japan Kenya Kiribati Lesotho Macao Malawi Malaysia Maldives Malta Mauritius Montserrat Mozambique Namibia Nauru Nepal New Zealand Nieu Island Norfolk Island Pakistan Papua New Guinea Pitcairn Island St Helena St Kitts-Nevits (-Anguilla) St Lucia St Vincent Seychelles Singapore Solomon Islands Somalia South Africa Sri Lanka Surinam Swaziland Tanzania Thailand Tokelau Islands Tonga Trinidad and Tobago Turks and Caicos Islands Tuvalu Uganda United Kingdom Virgin Islands (U.S.) Zambia Zimbabwe
This article was originally published by Business Insider.