He had rations to last just one week. But somehow an Indonesian teenager who drifted out to sea in a floating wooden shack managed to survive 49 days before being rescued by a passing freighter.
Aldi Novel Adilang, from the Indonesian province of North Sulawesi, endured a terrifying ocean voyage when the remote fishing hut he was stationed on broke free from its moorings and drifted over 1,900 kilometres (about 1,200 miles) out into the sea.
"Aldi said he had been scared and often cried while adrift," diplomat Fajar Firdaus from the Indonesian consul general in Osaka, Japan, told The Jakarta Post.
"Every time he saw a large ship, he said, he was hopeful, but more than 10 ships had sailed past him, none of them stopped or saw Aldi."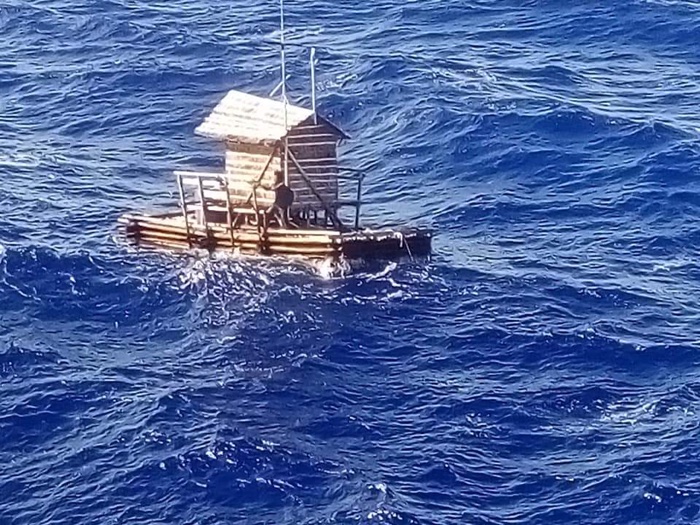 (ICGO/Facebook)
Adilang, who is 18 or 19 according to various sources, now has quite the story to tell. While his unlikely survival of the weeks-long ordeal is truly remarkable, it seems the young man is accustomed to extreme hardship and isolation.
The floating shack he was employed to mind – called a rompong – is usually situated 125 kilometres (almost 80 miles) off the Indonesian coast, totally alone, and floating in the middle of nowhere.
In what The Post describes as "one of the loneliest jobs in the world", Adilang spent his days and nights on the remote rompong, lighting lamps at nightfall to lure fish into a trap.
For six months at a time, Adilang would live in isolation doing this, with only a walkie talkie and fleeting weekly supply drops for human contact – when someone would come to collect the fish haul and top up the teen's food, cooking gas, drinking water, and generator fuel.
That was on a good week.
On a bad week – like when the rompong's mooring rope broke over two months ago – no visit ever came, with strong winds blowing Adilang's fish-trapping shack home out into the distant blue horizon.
(ICGO/Facebook)
"I was on the raft for one month and 18 days. My food ran out after the first week," Adilang told AP.
"I had to soak my clothes in the sea, then I squeezed and drank the water."
When you're adrift at sea, the only respite from drinking seawater would be the occasional rainfall if you're lucky.
Once his initial week-long food supply ran out, he cooked fish caught from the ocean. But then his cooking gas ran out too, so Adilang began burning parts of the rompong's wooden frame to make a fire.
Obviously, such a strategy could not have lasted forever. Luckily for Adilang, it didn't have to.
By chance, Panamanian bulk carrier Arpeggio crossed Adilang's path on August 31 in Guam waters, and although the crew did not notice his tiny wooden hut floating adrift, Adilang was successful in hailing them on his radio.
He was rescued, fed, and given fresh clothes (and a haircut), before being taken to Japan, then ultimately reunited with his family in Indonesia.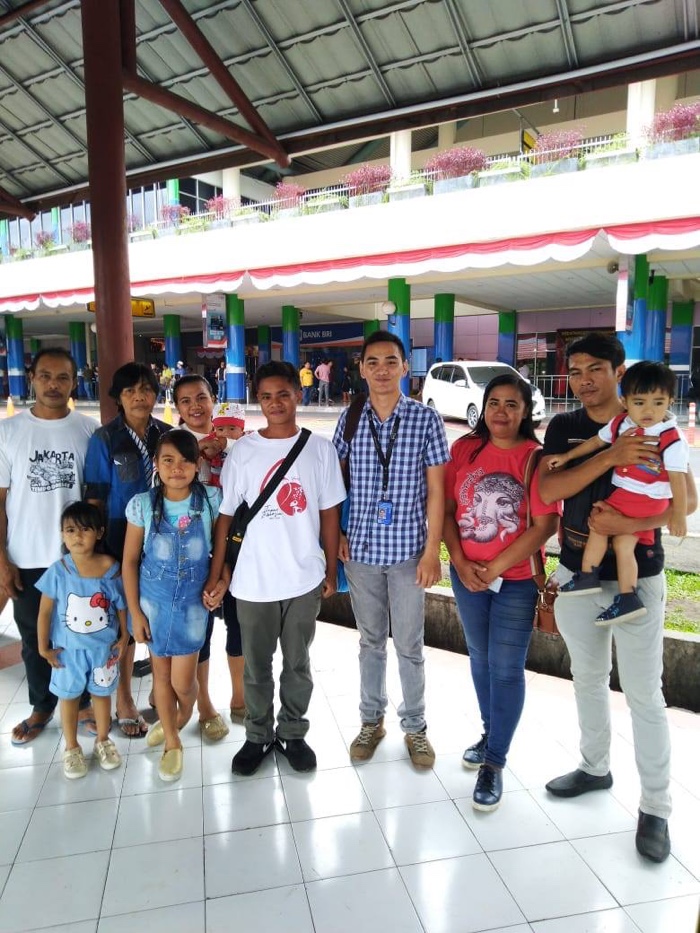 Adilang (in white T-shirt) reunited with his family (ICGO/Facebook)
Amazingly, this isn't the first time Adilang's mooring rope snapped.
His fishing shack went adrift twice before this, but on those occasions, the owner of the business was able to find and rescue him. Not so this time.
"I thought I will never meet my parents again," Adilang told AP, "so I just prayed every day."
After discussing the matter with his parents – and having now been adrift on a rompong three separate times since he started working on them at 16 – Adilang has decided he doesn't want to return to the job.
What this means is that there's a vacancy at Adilang's former employer, who operates about 50 of these floating fishing traps scattered across the sea.
Contracts last for six months. Candidates need to demonstrate the ability to work long hours independently, in sometimes difficult circumstances, including occasional episodes of being lost at sea.
The job pays US$130 per month.