Daniel, Jack and Matthew Aplin were driving along the south coast of Wellington, New Zealand, last weekend when they got a little bit distracted.
The three brothers were supposed to be on the lookout for the perfect diving and spearfishing spot, with plenty of paua and butterfish to collect, when suddenly, their attention was caught by something else entirely.
"My brother said 'what's that over there?' and pointed it out," Daniel Aplin told The New Zealand Herald.
"It was right next to the track so we pulled over and we were like: 'It's a big squid'."
Big is a bit of an understatement. Because while the brothers describe themselves as "big dudes", none of them even came close to matching the size of the deep-sea creature.
Stretched out alongside their find, Jack Aplin's feet barely reached the beginning of the squid's tentacles. The divers said they had never seen anything like it before.
(Daniel Aplin)
"After we went for a dive we went back to it and got a tape measure out and it measured 4.2 metres [13.7 feet] long," Daniel told the Herald.
Another passerby who measured it said they got closer to 4.5 metres [16.4 feet].
Daniel Aplin posted evidence of their finding to the Facebook page "OCEAN HUNTER Spearfishing & Freediving Specialists", and the photographs immediately drew attention from other spear fishers and divers.
"People worry about sharks. Bugger seeing that in the water," one member of the group commented.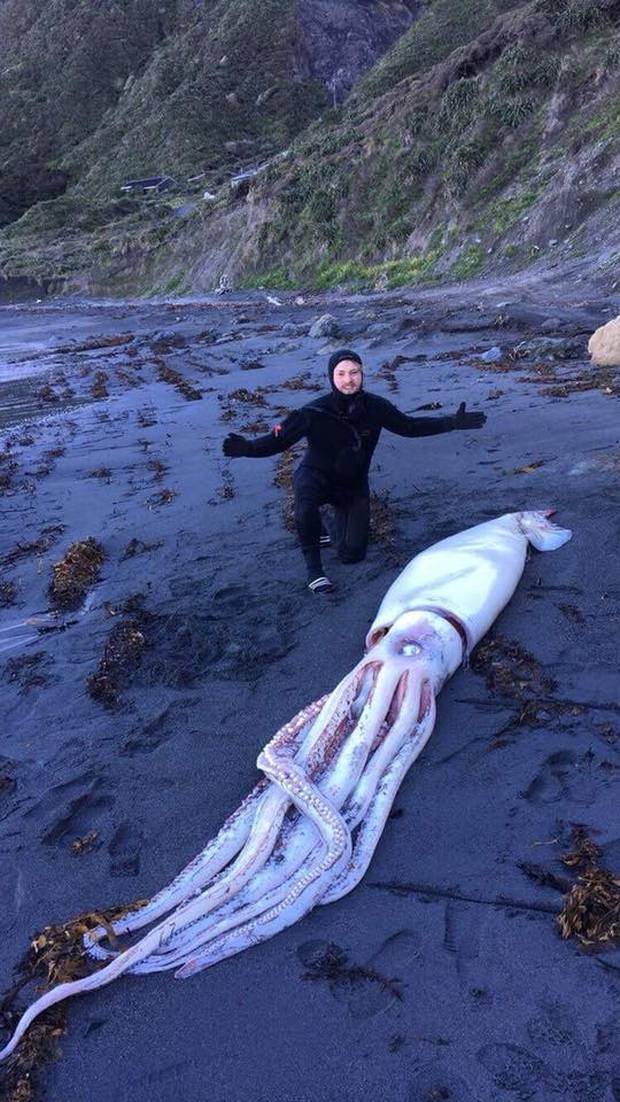 (Daniel Aplin)
According to a spokesperson from New Zealand's Department of Conservation, the enormous animal is almost certainly a giant squid (Architeuthis sp.).
The sheer size of this deep-sea species is so distinguished that scientists have given it three potential crowns.
Not only is it the largest known cephalopod in the world, it is also the largest known mollusk and, likely, the largest invertebrate ever known to exist (although, depending on your source, the colossal squid might give it a run for its money).
On average, giant squids range from 3 to 9 metres (9.8 to 29.5 feet) in length, although they can reportedly reach up to 13 metres (42.6 feet). The head, body, arms, and tentacles usually weigh in at around 455 kilograms (1,003 pounds) or less.
It's still unclear why this particular giant squid washed up on shore. But while these events are not common, they are also not rare. And they don't necessarily suggest anything ominous.
"It was pretty clean, nothing major on it. There was a scratch on the top of its head but smaller than a lighter, tiny, wouldn't think that's what killed it," said Daniel.
The other passerby who saw it made a similar assessment.
"It's all in one piece, it's in great nick but I didn't see the eyes," she told The Dominion Post.
Which is a shame, really. Because the giant squid has the largest eyes out of any animal in the world.
The three brothers eventually contacted the National Institute of Water and Atmospheric Research, which arranged for the squid to be collected and examined.
It's not a day they will be forgetting anytime soon.