As our planet continues to warm, the need for renewable energy is becoming increasingly urgent. Almost half of the UK's electricity now comes from renewable sources. And solar accounts for one-fifth of the energy capacity installed since 2019.
Solar farms are now a striking feature of the British landscape. But despite their growth, we're still largely in the dark about how solar farms impact biodiversity.
This was the focus of a recent study that I co-authored alongside colleagues from the University of Bristol. We found that bat activity is reduced at solar farms compared to neighboring sites without solar panels.
This discovery is concerning. Bats are top predators of nighttime insects and are sensitive to changes in their habitats, so they are important indicators of ecosystem health. Bats also provide valuable services such as suppressing populations of insect pests.
Nonetheless, our results should not hinder the transition to renewable energy.
Instead, they should help to craft strategies that not only encourage bat activity but also support the necessary expansion of clean energy sources.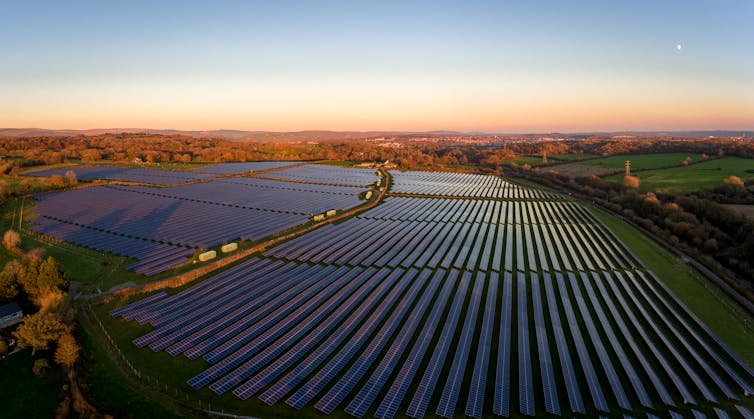 Reduced activity
We measured bat activity by recording their ultrasonic echolocation calls on bat detectors. Many bat species have distinctive echolocation calls, so we could identify call sequences for each species in many cases. Some species show similar calls, so we lumped them together in species groups.
We placed bat detectors in a solar farm field and a similar neighboring field without solar panels (called the control site). The fields were matched in size, land use and boundary features (such as having similar hedges) as far as possible. The only major difference was whether they contained solar panels.
We monitored 19 pairs of these sites, each for a week, observing bat activity within the fields' center and along their boundaries. Field boundaries are used by bats for navigation and feeding.
Six of the eight bat species or groups studied were less active in the fields with solar panels compared to the fields without them.
Common pipistrelles, which made up almost half of all bat activity, showed a decrease of 40 percent at the edges of solar panel fields and 86 percent in their center. Other bat species or groups like soprano pipistrelles, noctules, serotines, myotis bats and long-eared bats also saw their activity drop.
Total bat activity was almost halved at the boundaries of solar panel fields compared to that of control sites. And at the center of solar panel fields, bat activity dropped by two-thirds.
Why are bats avoiding solar farms?
Conflict between clean energy production and biodiversity isn't just limited to solar farms; it's an issue at wind farms too.
Large numbers of bats are killed by colliding with the blades of wind turbines. In 2012, for example, one academic estimated that around 888,000 bats may have been killed at wind energy facilities in the United States.
The way solar farms affect bats is probably more indirect than this. Solar panels could, in theory, inadvertently reduce the abundance of insects by lowering the availability of the plants they feed on. We're currently investigating whether there's a difference in insect numbers at the solar farm sites compared to the control sites.
Solar panels may also reflect a bats' echolocation calls, making insect detection more difficult. Reduced feeding success around the panels may result in fewer bats using the surrounding hedgerows for commuting, potentially explaining our findings.
However, bats are also known to collide with smooth vertical flat surfaces because they reflect echolocation calls away from bats and hence appear as empty space.
Research has also found that bats sometimes attempt to drink from horizontal smooth surfaces because they interpret the perpendicular echoes as coming from still water. But, given the sloped orientation of solar panels, these potential direct effects may not be of primary concern.
Improving habitats
An important lesson from the development of wind energy is that win-win solutions exist. Ultrasonic acoustic deterrents can keep bats away from wind turbines, while slightly reducing the wind speed that turbines become operational at (known as "cut-in speeds") has reduced bat fatality rates with minimal losses to energy production.
Research suggests that increasing turbine cut-in speeds by 1.5 meters per second can reduce bat fatalities by at least 50 percent, with an annual loss to power output below 1 percent.
A slightly different approach could be applied to solar farms. Improving habitats by planting native trees along the boundaries of solar farm fields could potentially increase the availability of insects for bats to feed on.
Research that I have co-authored in recent years supports this theory. We found that the presence of landscape features such as tall hedgerows and even isolated trees on farmland has a positive effect on bat activity.
Carefully selecting solar sites is also important. Prior to construction, conducting environmental impact assessments could indicate the value of proposed sites to bat populations.
More radically, rethinking the siting of these sites so that most are placed on buildings or in areas that are rarely visited by bats, could limit their impact on bat populations.
Solar power is the fastest-growing source of renewable energy worldwide. Its capacity is projected to overtake natural gas by 2026 and coal by 2027. Ensuring that its ecological footprint remains minimal is now particularly important.

Gareth Jones, Professor of Biological Sciences, University of Bristol
This article is republished from The Conversation under a Creative Commons license. Read the original article.