Amateur astrophotography is becoming increasingly popular among the astronomy community, as advancements in telescope and camera technologies allow individuals from all walks of life to observe the heavens in mind-blowing detail, including our own Sun, albeit with the proper protective equipment.
This was recently demonstrated by Andrew McCarthy (Twitter @AJamesMcCarthy), who owns and operates Cosmic Background Studios, and is originally from Northern California but currently resides in Florence, Arizona.
On 18 March 2023, McCarthy tweeted a video of what appeared to be a tornado on the Sun's surface.
I spent 3 hours yesterday with my solar telescope pointed at a tall tornado-y looking thing on the sun. This 14-Earths-tall swirling column of plasma was raining moon-sized gobs of incandescent material on the sun. I can't imagine a more hellish place. pic.twitter.com/dewzNEAEJA

— Andrew McCarthy (@AJamesMcCarthy) March 18, 2023
While this feature doesn't look that big, McCarthy provides a stack of 14 Earths for scale within the video to show the gargantuan size of this tornado-like monstrosity. But while tornadoes are commonplace on Earth, what's happening on the Sun's surface to create such a unique phenomenon?
"This is a solar prominence in the sun's chromosphere," McCarthy recently told Universe Today. "A mass of plasma caught in a magnetic loop, drawing it away from the photosphere and over a hundred thousand miles into space. Solar material 'rains' down from the prominence back into the Sun."
McCarthy tells Universe Today that this sequence was imaged using a modified telescope that can observe the Sun's atmosphere in what's known as hydrogen-alpha band using hundreds of thousands of images over a few hours, and he says this was not a random encounter as he monitors the Sun's behavior on a daily basis.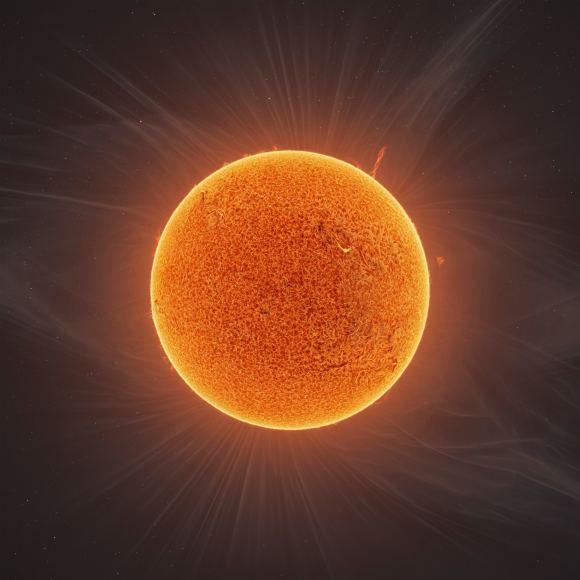 "Each frame of the video was a stack of about 500 individual images," McCarthy tells Universe Today. "The feature was relatively faint against the much brighter solar disc, so it was difficult to resolve the contrast against the glare otherwise."
Along with the video, McCarthy collaborated with colleague Jason Guenzel (Twitter @TheVastReaches) to produce a breathtaking 140-megapixel still image of the Sun with the tornado visible in the upper portion of the image, with McCarthy telling Universe Today that this image "boasts a dramatic look at the chromosphere and solar corona."
McCarthy mentions a few layers of the Sun, including the solar prominence, chromosphere, photosphere, and corona. This is because while the Sun appears to be a uniform structure on the surface, it contains layers just like the Earth and other celestial objects.
The photosphere is the visible surface of the Sun which we see daily and in astronomical observations. It is approximately 100 kilometers thick, which is minuscule compared to the Sun's diameter, which is approximately 1,400,000 kilometers, and has a temperature range of 3700 to 6200 degrees Celsius.
The chromosphere is known as an irregular layer that sits above the photosphere and is approximately 2500 kilometers thick with a temperature range of 6000 to 20,000 degrees Celsius. Solar prominences are the large, bright features that emanate from the Sun, such as the tornado-like feature imaged by McCarthy, and have temperature ranges of 4,700 to 50,000 degrees Celsius.
The solar corona comprises the Sun's outer atmosphere and exhibits the largest temperature at 2 million degrees Celsius. The corona is only visible during solar eclipses, and McCarthy tells Universe Today that data from the Solar and Heliospheric Observatory and an image from Guenzel of the 2017 total solar eclipse were combined to form these images.
Be sure to check out the fantastic astrophotography from both Andrew McCarthy and Jason Guenzel at their respective Twitter pages and websites (listed below), and please avoid looking directly at the Sun, either during an eclipse or not, without proper eye protection or telescope solar filters.
This article was originally published by Universe Today. Read the original article.