It's starting to feel real. Boeing and Elon Musk's Space Exploration Technologies (SpaceX) have contracts with NASA to fly astronauts to the International Space Station as part of what's known as the Commercial Crew Program.
Seven years after the end of the space shuttle program, NASA introduced the astronauts who will fly with both companies.
Now comes the hard part.
On Monday at SpaceX's headquarters in Hawthorne, California, the media – and, more important, SpaceX employees – got a chance to meet the four astronauts who will fly on Crew Dragon, the spacecraft SpaceX designed to ferry them safely to and from the orbiting lab.
Here are the next big steps for SpaceX and the Dragon team:
Demo-1: SpaceX will conduct an uncrewed demonstration mission known as Demo-1. The Crew Dragon spacecraft assigned to Demo-1 underwent thermal vacuum and acoustic testing at NASA's Plum Brook Station in Ohio and arrived in Florida last month.
The mission is currently targeted for November.
In-Flight Abort Test: SpaceX will demonstrate its ability to swiftly carry the Dragon capsule to safety in the event of an in-flight mishap with the Falcon 9 rocket.
There won't be astronauts on board for this test, which will be conducted from Launch Complex 39A at the Kennedy Space Center in Florida. Neither NASA nor SpaceX has named a target month; early next year seems likely.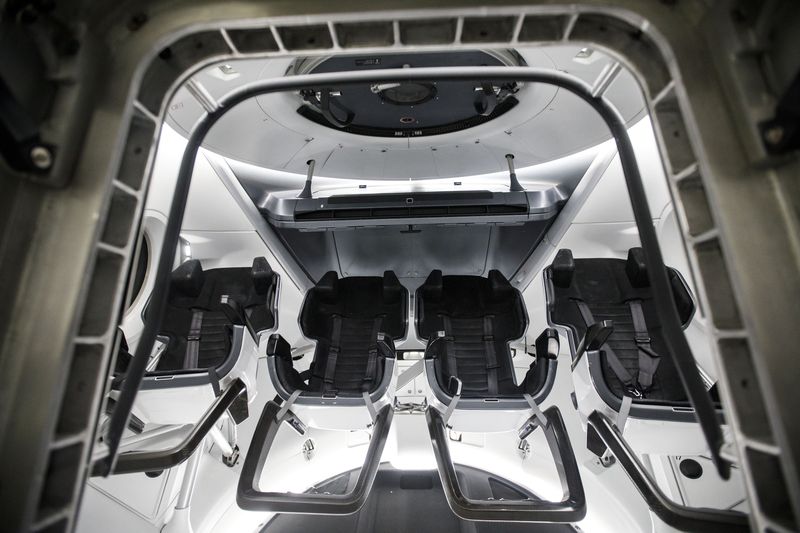 (Patrick T. Fallon/Bloomberg)
Demo-2: Following Demo-1 and the abort test, US Air Force Colonel Bob Behnken and former Marine Corps test pilot Doug Hurley will be the first two astronauts to fly in the Dragon, which will launch from Kennedy Space Center.
Hurley, who's been with NASA for 18 years, said he's thrilled with the white spacesuits SpaceX designed – if you watched the Falcon Heavy launch in February, the dummy "Starman" was wearing one behind the wheel of Musk's cherry red Tesla Roadster.
"The old spacesuits are really heavy," said Hurley. "SpaceX started from scratch and built this in-house. It's pretty neat-looking. I've worn the suit over 20 times already, and it's lighter and a lot more comfortable to wear." Demo-2 is currently targeted for April 2019.
Although SpaceX and Boeing are in a race to see which one will get astronauts to the ISS first, both companies, as well as NASA, said they're focusing on safety over schedule.
"We are not going to fly until we are ready to fly safely," said SpaceX Chief Operating Officer Gwynne Shotwell at the event on Monday.
"We need to hit all the boxes and do everything we need to do to take astronauts from US soil as often as NASA will let us."
After SpaceX successfully completes Demo-2, NASA will certify the spacecraft and systems for regular crewed launches to the ISS, with astronauts Mike Hopkins and Victor Glover flying the first operational mission.
(Patrick T. Fallon/Bloomberg)
From left: Gwynne Shotwell, president and chief operating officer of SpaceX; NASA astronauts Bob Behnken, Doug Hurley, Mike Hopkins and Victor Glover; Garrett Reisman, senior adviser for human spaceflight at SpaceX; Benjamin Reed, director of crew mission management at SpaceX.
Even with all the safety precautions and testing, however, the astronauts remain aware that, even in the 21st century, spaceflight is extremely hazardous.
"The only thing I'm afraid of," said Glover, who's married and has four daughters, "is not coming home to my family."
2018 © Bloomberg
This article was originally published by Bloomberg.