There's a new world land speed record of 448.757 mph (that's 722.1 km/h) – and what's even more astonishing is the record was set in a 50-year-old car, the Challenger 2, which first attempted the feat back in 1968.
The original record run was attempted by legendary speed freak Mickey Thompson, so it's fitting that the new benchmark has been set by his son, 69-year-old Danny Thompson, in a refurbished version of his dad's motor.
It's the same location too – the wide open plains of the Bonneville Salt Flats, beloved by speed enthusiasts, and the scene of many a land speed record attempt.
In recent years vehicles on land have clocked even more astonishing speeds thanks to turbojet and fanjet engines, but this one is special – this vehicle from half a century ago has beat a 2012 land speed record achieved with a car using an internal combustion engine.
Over the past few years, Thompson junior has been carefully restoring the Challenger 2, keeping most of the exterior intact while upgrading the internals to match modern racing standards.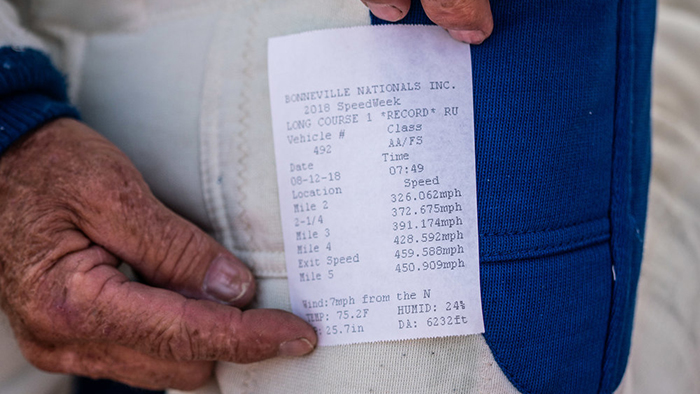 The top speed was hit on the fifth mile. (Thompson LSR)
Now all that hard work has paid off, with the 448.757 mph speed becoming a new record for a piston-powered car. The official figure is the average of the vehicle's outward run (446.605 mph or 718.7 km/h) and return run (450.909 mph or 725.7 km/h) over two days.
"That has been the goal since day one of the project, and it wouldn't have been possible without the extraordinary efforts of my crew," said Danny Thompson in a statement.
"The men and women who volunteered to join me on this crazy adventure are the reason for today's success. I can never thank them enough."
When Mickey Thompson attempted to break the record 50 years ago in Challenger 2, he was thwarted by rains that washed away much of the salt flats. He and his wife Trudy were tragically murdered in 1988, and it would be another 15 years before Danny turned his attention to Challenger 2 again.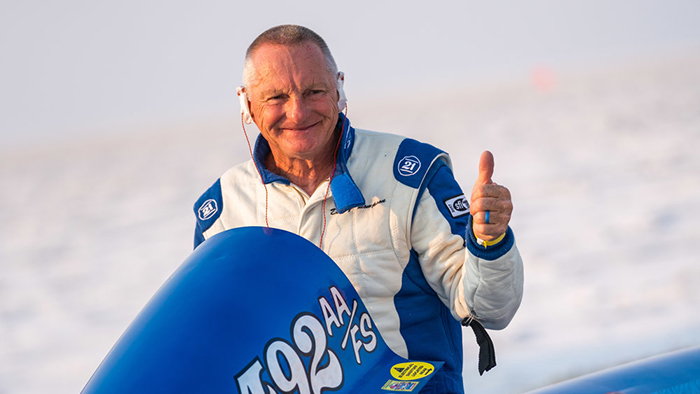 Danny Thompson. (Thompson LSR)
This updated Challenger 2 features the same 68 hand-formed aluminium panels as the car sported in 1968, though the original Ford 427 engines have been replaced by two dry block nitro-fueled Hemi V8 engines that pump out double the speed – 2,500 horsepower  (1,800 kW) each.
"In 1968, my dad, the mad scientists at Kar Kraft, and an elite group of Southern California gearheads created a vehicle that they believed had the potential to become the world's fastest hot rod," says Thompson.
"It took five decades, a lot of elbow grease, and a few modifications, but I feel like I've finally been able to fulfill their dream, as well as my own."
Weighing in at 2,359 kilograms (5,200 pounds), which helps the stability of the vehicle at high speeds, Challenger 2 burns through 190 litres or 50 gallons of fuel for every 5-mile run.
Once a high speed record is set, a car has to be impounded overnight before running again the next day to see if it can match its original performance. In this case, Challenger 2 ran even faster on the second day.
For comparison, the previous record was 439 mph (706.5 km/h) set by George Poteet in his Speed Demon in 2012. Consider that passenger jets cruise at a speed of around 550 mph (885.1 km/h), and you can see the kind of speeds we're talking about.
"I'd like to thank all of you for coming along with me on this wild ride," adds Thompson.
"The interest, support, and encouragement has meant a lot to both myself and the crew. We made it happen with your backing."
You can see the view from inside the cockpit during one of the record-breaking runs in the video embedded below: